2022 HJH&SW Writing Contest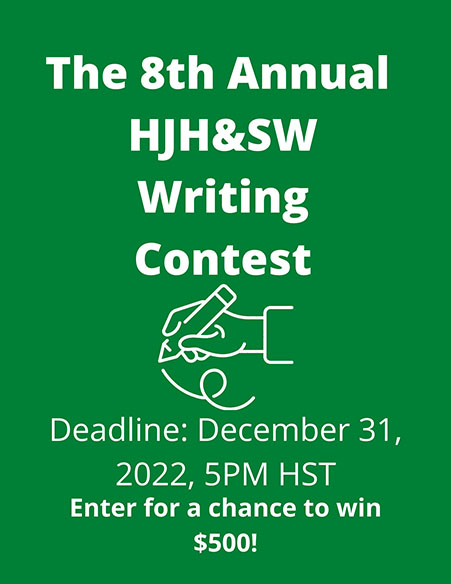 HJH&SW Writing Contest goals
Increase scholarship, participation, and recognition of HJH&SW as an appropriate publication for high-impact research articles in health- and welfare-related fields.
Engage, inform, and cultivate collaborative partnerships among stakeholders in different communities and across professions.
Encourage a supportive organizational culture that fosters writing and publishing.
Educate and expand knowledge base of our readership.
Prizes
Up to three cash prizes in the amount of $500 will be awarded.
Undergraduate Prize: $500
Graduate Student Prize: $500
Post-Graduate Prize: $500
HJH&SW writing contest winners will have their photographs featured along with their research articles in a future issue of the journal. Their work will be indexed and made available through the National Library of Medicine, PubMed Central. Exceptional entries that do not win a prize will be invited to submit their papers for publication in the journal through an expedited submission process.
Terms & rules
No entry fee.
ONE entry per applicant.
Previously published articles or articles that are in consideration for publication elsewhere are ineligible.
Publication in the HJH&SW is conditioned on the applicant's ability (and commitment) to fulfill all obligations for professional publication (see Writing & Submission Guidelines), which includes an extensive peer and editorial review process. Applicants who are unable to meet these standards forfeit their entry.
Eligibility
Eligibility is limited to students and professional researchers who are either currently enrolled in a medical, nursing, dental, pharmacy, social work, or public health program, or who recently graduated from such a program (within the last 12 months). Consideration may be given to applicants in other disciplines.
This contest is open to:

undergraduate students
masters- and doctoral-level students
post-doctoral fellows, resident physicians, veterinarians, nurses, dentists, social workers, and pharmacists who have graduated within the last 12 months

The applicant must be the primary author of the paper and have participated sufficiently in the work to take responsibility for its contents. The mentor or faculty advisor must certify that the applicant contributed substantially to: (1) the conception and design or analysis and interpretation of the data and (2) the drafting of the article. Advisors/mentors shall attest to the individual's work and provide final approval of the submitted article.
How do I enter?
Submissions must be original research articles related to the practice of medicine or public health, with a focus on the Hawaiian Islands or Pacific Rim region. Learn how to prepare and submit a manuscript by downloading the Writing and Submission Guidelines.
Also, an Applicant Checklist is available to assist you in the submission process.
Email Submission
Submit one electronic copy of the manuscript and supporting documents to hjhsw@hawaii.edu. Use the subject line "HJHSW Writing Contest." Applicants will receive a confirmation email within 1-2 business days.
A complete application includes:
Cover Letter
Manuscript (up to 3,000 words)
Signed Advisor/Mentor Agreement Form
Signed Copyright Transfer/Publishing Agreement Form
How are winners selected?
The winning entries will be determined by a panel of up to four judges selected and approved by the HJH&SW Editorial Board. All entries will be scored in three categories: form, content, and impact. A fifth judge will be asked to review the article if there is a significant difference in the scores from the judges. Authors will be anonymous to the judges. Undergraduates, masters- and doctoral-level students, and post-graduate level applicants will be judged separately. For more information, download the Judging Criteria.
Timeline
Accepting Contest Submissions: Beginning August 8, 2022

Submission Deadline: December 31, 2022, 5:00 PM HST

Finalist Notifications: January 27, 2023

Publication of Winning Manuscripts: Winners will be given additional time to edit their manuscripts in preparation for publication. Selected articles will be published in a future issue of the HJH&SW.
Download Documents/Forms
*Required supporting documents.
Contact for questions: hjhsw@hawaii.edu